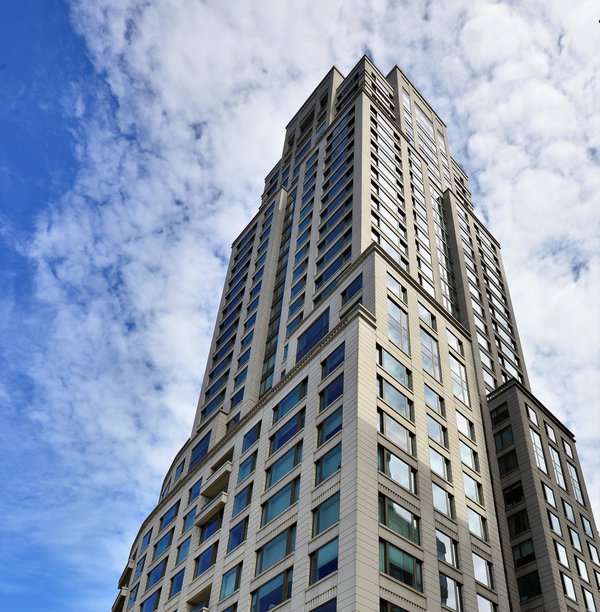 About The Heritage at Trump Place
When it comes to luxury Manhattan real estate, no one does it better than the Trump Organization. Built in 2005 by Costas Kondylis & Associates, The Heritage at Trump Place, located at 240 Riverside Boulevard on the Upper West Side, continues this tradition with opulent living quarters and exorbitant amenities.
The Heritage at Trump Place is 41 stories high and each of the 170 apartments inside are designed with luxury in mind. With sound-proofed windows, mahogany hemmingbone floors and kitchens that house top-of-the-line stainless steel appliances, granite countertops and imported cabinetry, the apartments at The Heritage at Trump Place have no competition. The master baths are paved in marble and furnished with classy vanities. The most distinctive part of the building is the 15 story curved pavilion.
The amenities at The Heritage at Trump Place leave nothing to be desired. There is a 24-hour white-glove concierge service, a garage, entertainment room, health club, steam rooms, massage treatment rooms, and a landscaped garden. There's also a children's playroom for the little ones. The condominium is ideally located on the Hudson River and provides residents with easy access to Riverside Park which features playgrounds, a skate park, bicycle trails, pedestrian walkways and courts and fields for sports.
Interested in Buying or Renting in The Heritage at Trump Place?
There are currently 11 units for sale and 2 units for rent in the building. Please click on the links below to get more information about the availabilities in The Heritage at Trump Place and we will connect you with a buyer's agent.